Thursday Late Night Shopping – 6th December
If you still need to finish (or even start) your Christmas shopping but struggling to find the time, then fear not! Many of the wonderful shops in Bognor Regis town centre will be running late night shopping every Thursday until Christmas.
Restaurant Offers – 6th December
As an added bonus there are will be performers to keep you entertained and there's also some amazing offers available from bars & restaurants to keep you fed and hydrated. Including two dine for £20 at Fusion Gin & Pizza bar, enjoy a starter, main & drink for £12.99 at T-Bone Burger plus much more! These offers shouldn't be missed!
Light Gliders Street Performers – 6th December 4pm – 7pm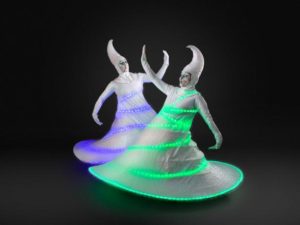 The Light Gliders will be whizzing around the town and glowing like lanterns. At just 4ft tall they will be dancing down the streets.
You can find the Light Gliders in the following Bognor Regis Town Centre locations:
London Road: 4pm – 4:30pm
High Street (East): 5:15pm – 5:45pm
High Street (West): 6:30pm – 7pm
This is subject to weather – do keep an eye on social media.
This event has been put on by Bognor Regis BID.
Snow Storms in Bognor Regis! 4.30pm – 7.30pm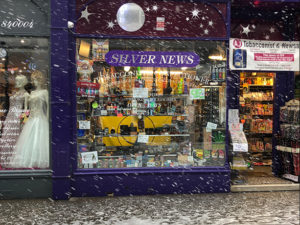 Some of you might have enjoyed the Snow Storm through The Arcade on Saturday but if you missed it fear not! There will be a Snow Storm every Thursday and each weekend until Christmas. Below are the times for Thursday 6th December. However, Snow Storms will also be taking place over the whole weekend.
Wilkos: 4pm – 4.30pm
William Hardwicke: 5pm-5.30pm
Reynolds Furniture: 6pm-6.30pm
Wilkos 7pm – 7.30pm
This is subject to weather – do keep an eye on social media. This event has been put on by Bognor Regis BID.
Children's Character Hunt – 8th December 11am – 4pm

Seek them high, seek them low! Can you spot an Ice Queen in Iceland? Or a Jack Frost in Rainbows?  Cheeky costumed characters will be all around the town, and they're all carrying stamps. Collect all five different character stamps to be in with a chance to win a Christmas Hamper worth £50. This event is also taking place again on the 23rd December.
Pick up an entry form from Grandads Front Room, Heygates Bookshop or Unique Workwear. 
Free Face Painting – 8th & 9th December 12pm – 2pm
Help your children get in the Christmas spirit by bringing them along to get their face painted in a Christmas theme. This is taking place every Saturday & Sunday throughout December at TAO, High Street between 12pm & 2pm. This event is free of charge, thank you to Bognor Regis Business Improvement District.
Please note it will be on a first come first serve basis.
Live Music – 9th December 10.30am – 12pm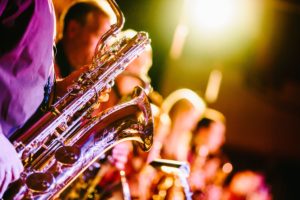 Visit Bognor Regis town centre on Sunday 9th December between 10.30am and 12pm and hear a fantastic walking band who will be playing music throughout the town.
Ice People – 9th December 11am – 2pm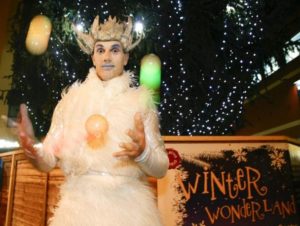 Come and meet the Ice People. They will be walking around Bognor Regis town centre showing off their skills of contact juggling with ambient music.
Ice Rink, Santa's Grotto & The Christmas Village on The Prom – Every day 10am – 8pm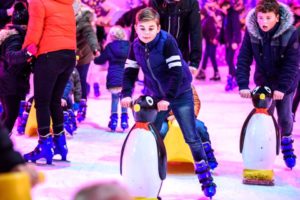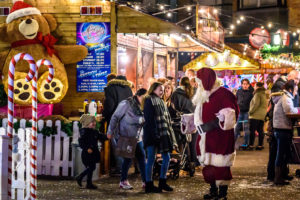 This year's Ice Skating on the Prom is BIGGER and BETTER this year, measuring in at 30 x 20 metres, the whole family can enjoy a traditional style rectangular Ice Rink.
If Ice Skating in Bognor isn't your thing or if you're looking to park your children somewhere for an hour, we've got you covered for entertainment! In addition to the Ice Rink, there's a Santa's Grotto, children's rides, Christmas Market huts, a life size snow globe, a German style swing grill and a bar.
Don't miss out on this popular fixture to the Christmas cheer around Bognor Regis! Book your tickets now. 
Tickets are available on arrival but we advise you to book early to avoid disappointment!
Please note performers will be taking regular breaks. Timings are subject to change due to weather and the snow machine will be moving to different locations. Please contact us on Facebook any questions on the day.