Everyone is talking about the latest major holiday attraction to open in Bognor Regis – the amazing new £40 million state of the art swimming pool which just opened at Butlins!
The project has been years in the planning and a source of great anticipation and excitement for families across West Sussex and beyond. So, in the spirit of research, we couldn't wait to go along and check it out.
About the new Butlins pool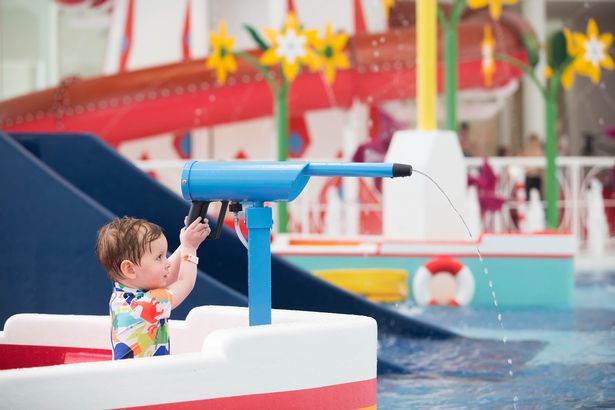 The brand spanking new pool complex was designed to bring the best of the British seaside in. It came about following close consultation with the online parenting forum, Mumsnet, so that the designers could create a space which was exactly what parents were looking for in the ideal place to spend their holidays.
Having already seen thousands of guests through the doors in only a few weeks since it opened, the new Butlin's Bognor Regis pool boasts a 24 foot helter skelter, side by side racer slides, a wave machine, multi coloured beach huts and enough space to comfortably entertain a whopping 1,000 guests!
It's no wonder that the new pool is a hot topic at the school gates for miles around. Perfect for toddlers and primary school age children, the pool, aptly called Splash! includes seaside garden rapids which take you outside the building, an adrenaline flume, stick of rock slides and a raft ride for the whole family.
Most amazing though, has to be the helter skelter ride, which is as tall as two double decker buses on top of each other!
Celebrity endorsements aplenty!
So inviting was the new Bognor Regis holiday attraction that it led a heavily pregnant Stacey Solomon and partner Joe Swash to take their two boys there for a special birthday treat for her son, Leighton.
Afterwards, Stacey gushed about how great the place was on her official Instagram page.
For people preferring a quieter experience away from the excitement, there are sun lounger zones and toddler only areas, while any phobias about dirty changing rooms are flung firmly out of the window. At Butlin's new pool you can expect underfloor heating and considerate design features, such as changing rooms to suit families large and small.
The grand opening
As a family of three, we attended the grand opening of Splash at the beginning of the month and witnessed the tremendous sound and themed light display the evening before, which was focused on the brand new pool. Bursting with vibrant colours, aquatic-themed imagery and fabulous music, it brought the whole West Sussex coastline to life.
The laser light show could be seen from miles around and it was clear that Butlins had gone all out with their new pool, judging by the magnificent display on the opening night. Through 66 million pixels of light projection mapping, the pool's indoor features were brought outdoors and displayed on the Art Deco exterior. The effect was achieved using cables the equivalent in length of 50 Olympic-sized swimming pools.
We spent the night of the opening in the Shoreline hotel and found it to be a great place for families with young children, from the walls that were play areas of their own, to the cabin beds, designed especially so little ones could feel like they'd got their own little hideaway, complete with a curtain and their own TV.
Combined with the super friendly staff, who couldn't do enough for you and the delicious food, we took in fantastic views over the Bognor Regis skyline from our fourth floor room and felt it was perfect for a family night away.
What Billy Butlin's daughter had to say
Posting a video on Facebook after the event, Billy Butlin's daughter Jacquie Butlin, said:
"When I walk around the resort, I feel so proud that my father started this. He was an innovator and pioneer, the first person to bring dodgems over from America."
"The idea of Butlins is to be able to stay in a resort, have all your fun there and enjoy your time with your family. To see where Butlin's is today is amazing. I think he would have been so proud of what Butlin's has achieved. Guests come back every year and see friendly faces that they know. Everybody wants you to enjoy your time here.
"The new pool is absolutely mind blowing, looks amazing from the outside and when you go in there you get the WOW factor."
And we must say, we totally agree. Can't wait to take the family to this marvellous Bognor Regis holiday attraction again very soon!
To find out more about the new pool and to book your stay at Butlin's Bognor Regis, go to https://www.butlins.com/new-pool-bognor-regis